Our Hotel Located Near Boston's Top Attractions
Indulge In Boston's Shops, Restaurants and Historical Landmarks
Whether you're interested in the city's vibrant culinary scene, famous museums or cultural landmarks, The Eliot Hotel's prestigious Back Bay address is perfect for discovering the top downtown Boston attractions.
Our historic Neo-Georgian hotel is situated on Commonwealth Avenue, a famous boulevard that was modeled after the iconic Champs-Elysees in Paris. Located near Fenway Park, downtown shopping and Boston's top attractions, our neighborhood is known for its thriving financial district, restaurants and shops.
Located just steps from the Copley Square shopping mall and Newbury Street shopping strip, The Eliot Hotel provides unprecedented access to the top attractions in Boston. Catch a Red Sox game at nearby Fenway Park, take a stroll along the banks of the Charles River or visit the Museum of Fine Arts, Boston – all within 5 minutes of our boutique hotel.
No matter what brings you to Boston, you'll find it just moments away at The Eliot Hotel.
The Eliot Hotel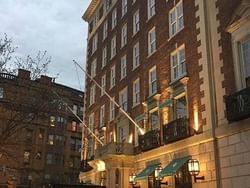 Wondering where to stay in Boston? At The Eliot Hotel, treat yourself to a luxurious, spacious and personalized Back Bay Boston Hotel.